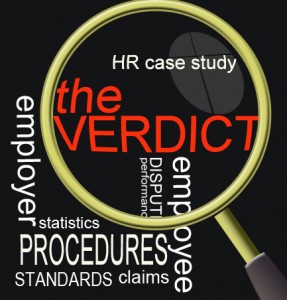 Was Vincent Staub discriminated against because of his military obligations and was his termination justified? This case was eventually reviewed by the Supreme Court. How would you rule given the facts below?
Staub vs. Proctor Hospital, No. 09-400
Vincent Staub, a technician for Proctor Hospital and an active member of the United States Army Reserve, sued Proctor Hospital for wrongfully terminating him—an action he believed was motivated by discrimination toward his military obligations. Staub's immediate supervisor, Janice Mulally, claimed that such obligations as attending drills one weekend every month and training full time two to three weeks each year were a strain on the department. Because others in the department had to cover Staub's schedule, Mulally decided to schedule him for additional shifts without notice. Mulally's supervisor, Michael Korenchuk, also found Staub's military duties to be a strain on the department and asked one of Staub's co-workers to assist in getting rid of Staub.
Eventually, Staub was terminated from Proctor. The reason given for his termination was that Staub had twice violated the company rule that requires an employee to stay in their work area unless they are with a patient. The hospital's personnel officer, Linda Buck, responsible for terminating employees, reviewed Staub's file and made the final decision to terminate Staub. Staub challenged this decision, claiming that Mulally had fabricated her information. Buck, however, dismissed Staub's claims and stood by her original decision.
Under the Uniformed Services Employment and Reemployment Rights Act (USERRA), Staub sued Proctor Hospital for discrimination motivated by opposition toward his military service and obligations. Though Buck's decision was not motivated by discriminatory intent, Mulally and Korenchuk's apparent opposition to Staub's military duties and Mulally's false accusations contributed to Buck's decision to terminate Staub. Proctor Hospital, however, asserted that unless the actual decision maker's decision had been motivated by discriminatory intent, then the hospital is not liable.
Staub argued that under USERRA, "[if a] person's membership in a uniformed service is a motivating factor in the employer's adverse employment action," then the employer is, in fact, liable. The jury ruled in favor of Staub, concluding that Staub's military service had been a motivating factor in his termination. Proctor Hospital appealed this ruling to the Seventh Circuit, where the Circuit Court reversed the prior ruling, based on Staub's failure to establish that Buck's decision had been wholly dependent on the information provided by Mulally and Korenchuk.
This held until the Supreme Court overturned the Circuit Court's ruling, applying the "cat's paw" theory of liability, stating that "under USERRA an employer is liable for employment discrimination based on the biased actions of supervisors and other company officials even if the ultimate decision maker was not biased himself." In other words, since Mulally and Korenchuk are agents of the hospital, and since their discrimination toward Staub's military commitments became a motivating factor in his termination, discrimination was a "motivating factor in the employer's action."
In addition to avoiding discrimination and retaliation against a covered service member, employers should follow these three basic steps to handle an employee's military commitment:
1) As outlined by the Uniformed Services Employment and Reemployment Rights Act (USERRA): Any departing military service member is not obligated to give written notice of his or her departure to his or her employer; oral notification of this is acceptable. Nor may an employer demand to be notified of one's departure with a particular time frame (for instance, two weeks before the employee is to depart). The military service member is only obligated to let the employer know of his or her departure as soon as possible.
2) USERRA states that no employer can refuse to hire or refuse a qualified employee promotion based on the assumption that his or her military involvement might interfere with the job performance.
3) When reinstating returning service members:
 Complete the reinstatement within a few days.
 Put the returning service member back in the job he or she left, or the job he or she would have qualified for if it had not been for his or her absence.
 Retrain returning service members if necessary, especially if there are new procedures in place or if equipment has been upgraded.
Finally, employers should be well-versed in the content of the USERRA poster and display it along with the other required labor posters in order to be in compliance with the regulations.
Case study written by Joan Canning and Jennifer Lozier – HR Advocate contributor
HR Advocate offers Straight-Talk Compliance Solutions for Managers and Supervisors with ongoing HR Advocate Help Desk coaching and support.