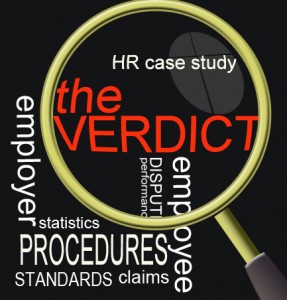 Was she discriminated against, or was her termination for wrongfully contacting a judge's chambers during a court hearing justified? The court has yet to rule on this lawsuit, as it has not gone to trial yet. How would you rule given the facts below?

Swiec v. State's Attorney for Baltimore City
Employed for 25 years by the Baltimore prosecutors' office, Swiec, a 61-year-old white woman, was fired for wrongfully contacting a judge's chambers during a court hearing. Believing her termination to be related to other factors, Swiec has filed a lawsuit alleging age, race, and gender discrimination. Until her termination in 2010, Swiec worked as the office manager of the Firearms Investigation and Violence Enforcement Unit, supervising a staff of four young African American women, with all but one being in their twenties.
Swiec claims she was terminated because she had raised concerns about her staff's inability to be professional in the workplace to her division chief, Matthew Fraling III, an African American male in his forties. Initially Fraling ignored Swiec's concerns, but in November 2010, Fraling suggested Swiec switch positions with a clerical supervisor of another unit. He mentioned that that staff included all white lawyers, two older African American women, and a white investigator. Swiec acknowledges she did not accept this change, and claims that later that week she was fired for what she believes to be discrimination.
However, the Baltimore prosecutor's office claims Swiec was fired for her wrongful contacting of a judge's chambers during a court hearing. Swiec explains that she only contacted the judge's chambers on the advice of a prosecutor to see when the trial would break, as she wanted to meet her nephew, a juror in that particular case, for lunch. Though she was reprimanded by the judge for this, Swiec claims that this incident was not reason for her termination, especially since a prosecutor recommended she call. Instead, this incident provided a false pretense to cover up for the discrimination, she argues.
There has been no ruling on this lawsuit as it has yet to go to trial, but Swiec holds that her termination was a result of her complaints about the lack of professionalism displayed by the African American women she supervised and her resistance to move to another unit.
Employer's Bottom Line:
What is the major takeaway from this case? Never ignore an employee's legitimate concerns about conduct in the workplace! If you avoid dealing with the issue promptly and appropriately, it will escalate. Employers who are uncertain of how to act on an employee's complaint can seek help from HR Advocate or any qualified human resource or legal professional. If you end up in court, you've already lost, regardless of the "verdict".
HR Advocate offers training solutions including Sexual Harassment Prevention training with ongoing HR Advocate Help Desk coaching and support.
Case study written by Jennifer Lozier – HR Advocate contributor