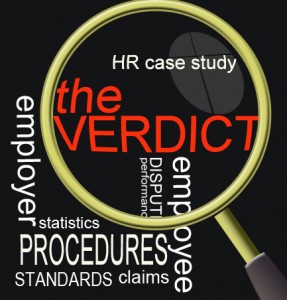 The Equal Employment Opportunity Commission (EEOC) logged nearly 100,000 individual charges against employers in 2011 — 28.5% were charges based on sex. Even more eye-opening is that a high percentage of charges were for retaliation — 37.4%. Often employers can avoid a guilty verdict on the claim of discrimination or harassment but end up losing on the retaliation charges. This case study deals with both types of charges.
EEOC v. 441 S.B., LLC, d/b/a Hurricane Grill and Wings, Case No. 11-CIV-80766-DMM
A group of female servers at Hurricane Grill & Wings in Royal Palm Beach, Florida recently experienced sexual harassment in the work place. However, instead of being harassed by another employee, these women were harassed on a regular basis by a customer, a Palm Beach County Deputy Sheriff. The EEOC claimed that the customer had repeatedly groped the breasts and buttocks of the female servers, had humiliated the servers with sexual innuendo, and had invited the servers to participate in a ménage a trois with him and his wife.
The restaurant made no action to correct the sexual harassment. It instead fired one female server, who had contacted a private attorney to help her file an Equal Employment Opportunity Commission (EEOC) complaint, and in turn the company owner/operator was met with a lawsuit. The owner/operator's tolerance of sexual harassment and firing of the female employee in retaliation for her complaining and opposing of the sexual harassment violated Title VII of the Civil Rights Act of 1964. Exposing the female servers to an unlawful employment environment not only deprived them of equal employment opportunities, but also caused them to suffer emotional distress.
While this case was pending, the company, 441 S.B., LLC, sold its interest to Hurricane Wings Management, who has agreed to conduct anti-harassment training—an offer available to all employees and management. Hurricane Wings Management will also redistribute its sexual harassment policy, post a notice to ensure continued effort in keeping the location free of sexual harassment, and monitor and report any displays of sexual harassment to the EEOC. 441 S. B., LLC is responsible for paying the $200,000 settlement they agreed to. And the customer was given a written request to stay away from the facility.
Every employer has the responsibility to prevent and correct known sexual harassment, no matter the status of the harasser. Women in the restaurant industry have a higher percentage of experiencing sexual harassment from a customer as opposed to women in other professions. Therefore, training employees to recognize sexual harassment and monitoring the actions of employees and customers are necessary to protect employee rights.
HR Advocate offers training solutions including Sexual Harassment Prevention training with ongoing HR Advocate Help Desk coaching and support.
Case study written by Jennifer Lozier – HR Advocate contributor